In sho
rt: We are a non-profit theatre association active in the Eifel, which was founded in 1947. We are aimed at everyone who loves theatre. Because theatre is our passion. The Konzen Theatre Association järhlich performs a (mostly) Kömödie in spring, since 2019 a youth piece in the summer and a fairytale piece in autumn.
Over 1 members 0 active members participate
Back in time: On 06.01.194
7, Ewald and Heinrich Lenzen, Franz Rosenwick, Bernhard, Paul and Hubert Huppertz, Arnold and Johann Jung, and Fritz Krings founded the theater association "Concordia" Konzen e.V.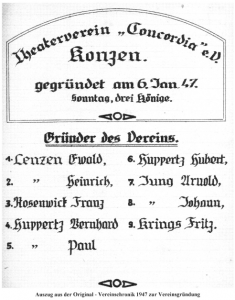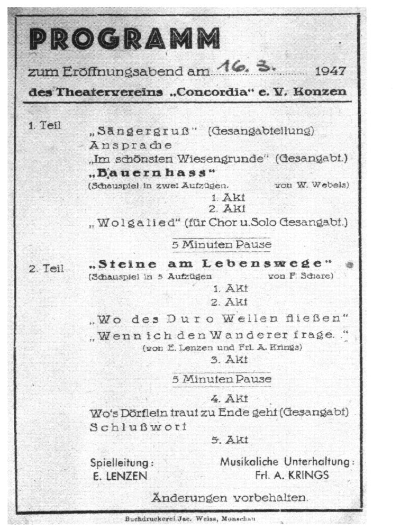 The first progra
m: Back then not quite as appealing as today, two plays took place in one evening.
"Peasant hatred" and "stones at the path of life" were the masterpieces that Ewald Lenzen played as a game leader there.
On the poster, strangely, still without time and also without a ticket shop.
The current club board
1.Chair-President: Sec
ond Chairman, of Preside
nt). Manager:
2. Manager:
1. Cassierer:
2. Cassierine: The acquie
r 1. Game guide infamation
2. Game guid
e: Co-seat:
2. Co-seat in:
1. Stage builder:
2. Stage builder:
Proquisitenwartin: Bo
x office auditor:
Andrea Werker
Markus Offele
Marlies Huppertz
Marianne Huppertz
Kurt Victor
Birgit Gillessen
Steffi Krings
Egon Kell
Tim Gillessen
Ramona Kaulard
Ernst Kaulard
Rudolf Huppertz
Marina Hamel
Eugen Huppertz and Josef Werker